Elsi Grabau spends most evenings in her sewing room next to her bedroom. She spreads the base fabric on the floor as she prepares to trace it against a pattern.
Once she cuts the fabric, she pins the pieces together to create the design in her mind's eye. After spending days working carefully and deliberately, a new Elsi Grabau original is made.
A junior at Hickman High School, the 16-year-old recently showed six dresses in the Kansas City Fashion Week for spring and summer. Grabau took her inspiration from early 2000s couture "because it had the shine and the ruffles."
"The toile was like a nod to the first thing I made, because it was blue and yellow toile," she said, pointing out one dress. "And I just really like big and bows and volumes."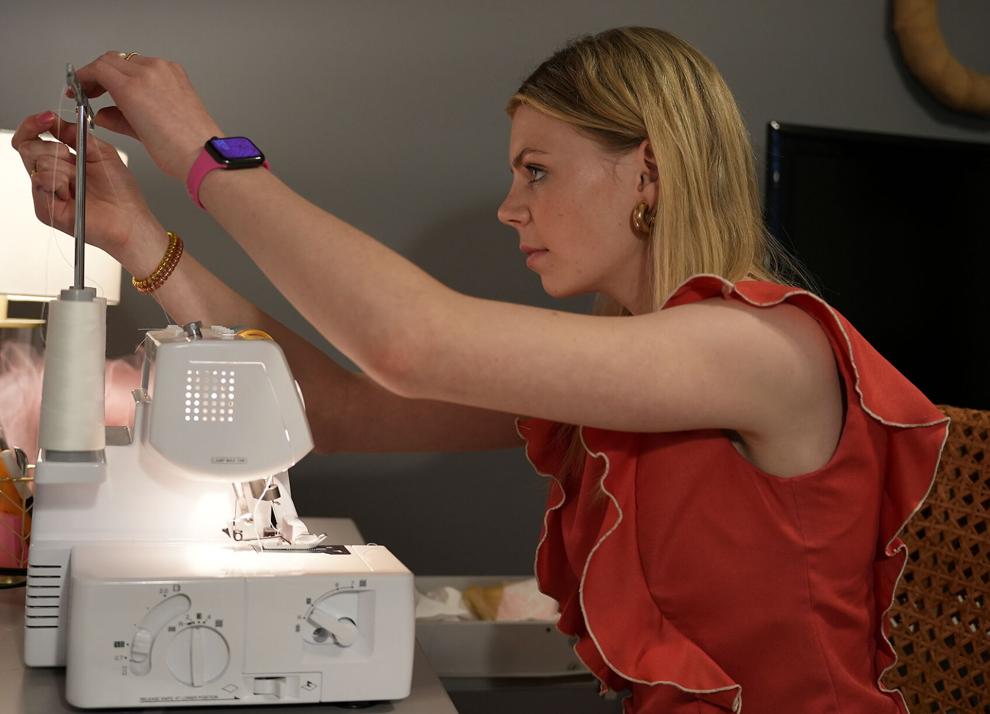 Since she started making scrunchies in middle school to this recent runway debut, Grabau has channeled her creative side. With high aspirations and dedication to her sewing, she plans to someday have her own design label.
One way she is able to work toward that goal is through a fashion class that Hickman offers.
"I got to bring my stuff there, and I would have an hour and a half every other day to work on it in school," Grabau said.
Her teacher, Shawn Huggins, said Grabau works hard on her designs and stays self-motivated.
"She is focused on the next line all the time," Huggins said. "She barely got back from the show in Kansas City, and she had already started her fall collection."
Grabau also has gone to a Rightfully Sewn fashion camp in Kansas City for the past two summers.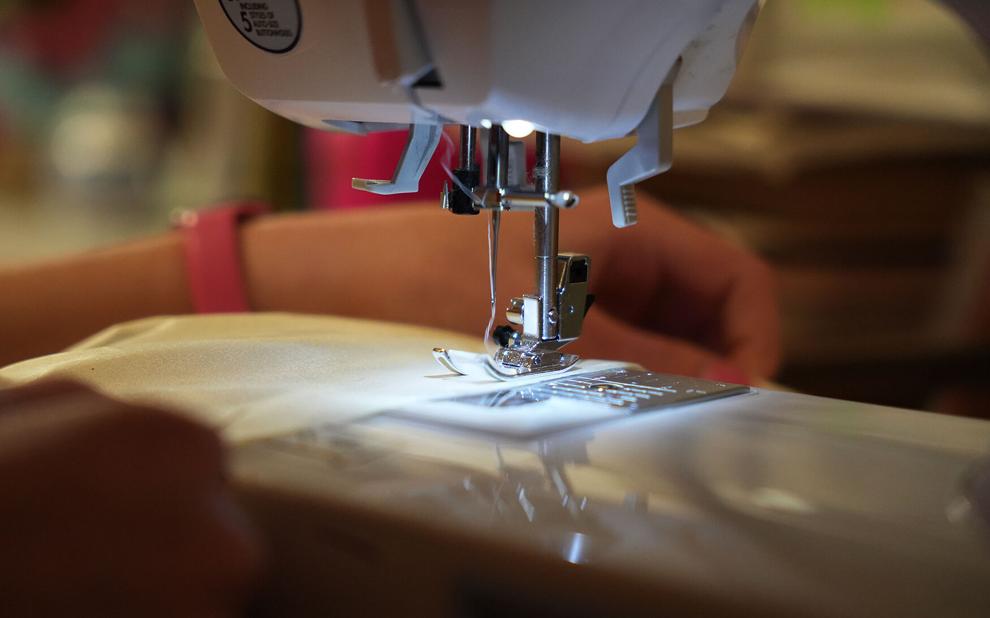 As a child, Grabau loved to sketch for fun. Her creativity showed up in distinctly different ways as well: In the sixth grade, she started making and selling slime, a squishy material fun for plopping and pulling from one hand to another. Her parents saw she enjoyed making slime and decided to support her by buying the material to get the business up and running.
"She was pretty young, and we were like, 'OK, we're going to support her with this. We're going to go all in,'" Ashli Grabau, Elsi's mother, said.
Elsi Grabau sold the slime at Plume, owned by Kelly Gillion. Grabau continued that connection with Plume when she started making and selling scrunchies. She also sold her scrunchies at Poppy Made By Hand, owned by Liz Tucker.
"Liz at Poppy and Kelly at Plume are just really supportive of her," Ashli Grabau said.
During the pandemic, Elsi Grabau took her creative passion into her own hands.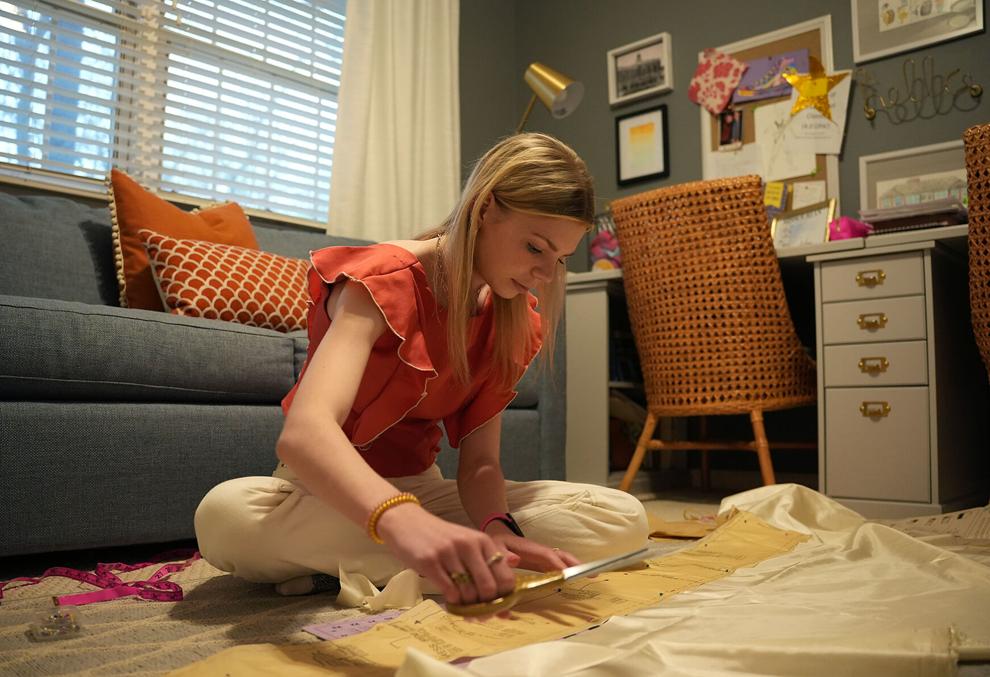 "In April of 2020, I just had so much free time. I was like, 'I am going to try this,'" she said. "The first few things I made didn't turn out. I tried to make a few skirts, and they wouldn't close in the back."
That was because she had cut the fabric into rectangular pieces and had not used a pattern. Now when Grabau starts a project, she starts by looking for a pattern that inspires her.
"What I'll do is I will design it and look for a pattern that is similar to the base," she said. "And I'll switch up the pattern and add things on top or cut it up."
Her creations for the Kansas City Fashion Week hang on a gold rack in her bedroom. The next time Grabau makes dresses for a fashion show, she plans to make duplicates so she can sell one.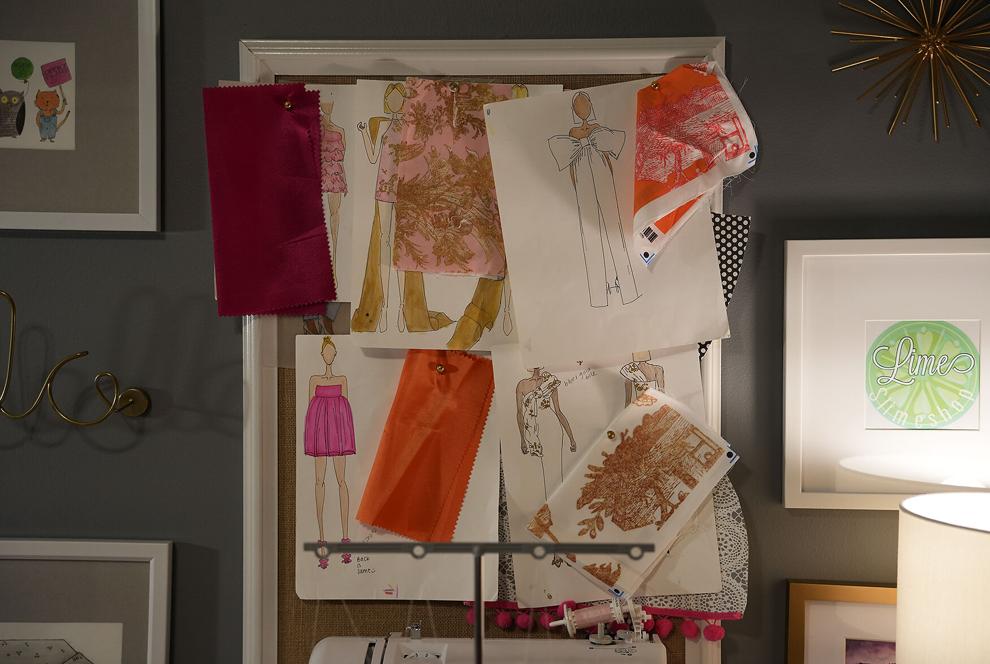 On top of sewing late into the night on a pair of Brother machines, Grabau is a back spotter on Hickman's varsity cheer squad. Because of her busy schedule, she has to be organized.
"I plan all my weeks out on Sunday in my planner, so I'll put down what times I will sew," Grabau said. "But a lot of the times, it ends up being if I don't have anything after school, I'll do homework until 7 and then sew until, like, midnight."
Grabau's plan after high school is to attend the Fashion Institute of Technology in New York. She hopes to one day be able to make and own a designer label.
For now, though, she continues to sew in the room next to her bedroom.